Having a good imagination makes planning for an overseas holiday so much easier. Such is the case with my upcoming trip to Dubai.
Since I first heard that I was one of the very fortunate to be invited by Dubai Tourism to experience the wonders of the UAE, I have been dreaming, planning and shopping. Yes, I know I should probably save myself for all the incredible markets and malls over there, but I do like to be prepared.
Whenever I hit a new city, the very first thing I like to do is visit a large upscale mall. Why? Well I find that it is one of the quickest ways to get the vibe of a city. To people watch and see what sort of pace they move at, which stores hold the balance of fashion power, and to gauge the level of daily glamour; the place I feel most at home.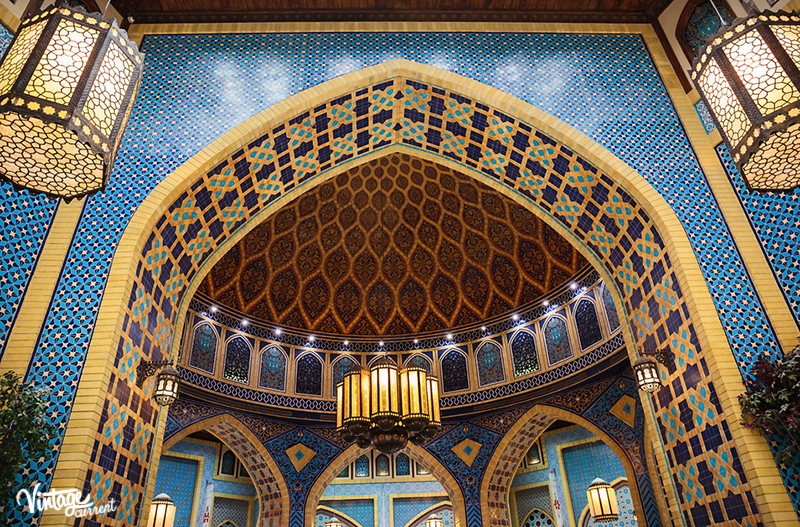 With that in mind, a visit to the Dubai Mall is high on my list of arrival priorities. It is the largest shopping and entertainment venue in the world! Yes, if I were a millionaire I'd probably go wild with my credit card and valet to carry all the packages, but the mall holds another rich appeal for me. The Aquarium!
You may not know this about me, but I have always been obsessed with aquariums. I've kept fish of some kind ever since I was a child, and they grace my back on a permanent basis. I adore watching the sway of the grasses and corals as fish dart in and out. Jellyfish are a particular favourite, with their iridescent lights and wispy tentacles. I can often be found sit sitting, mesmerised, watching these creatures float by.
I'll be staying at The Address Downtown Dubai, essentially right in the heart of the Mall and Souk district. Unlike so many cities I've visited, what has me giddy with excitement about Dubai is the seamless mix of the old and the new. Just like myself and this blog, there seems to be a strong sense of connection to its heritage, yet all set within a sleek futuristic version of that world. I will confirm this upon my arrival, but I have the distinct impression that the blend of old and new in Dubai will directly echo who I am.
For all the luxury and glamour of the city streets, I also plan on swathing myself in white muslin and khaki dresses to take on the Desert Safari. To ride side-saddle on a bejewelled swaying camel as the sun sets over the honeyed sand dunes. Having ridden a camel before I realise that the reality of these animals is a little different, but imagination is a wonderful thing.
I've already bought the most perfect pair of golden diamanté sandals and oversized 70's style sunglasses to match the regal vision in my mind.
To add to this fantastic vision of Dubai, I am planning to head to the Atlantis Palms where they have the Aquaventure. Not only does the Palms have the sort of incredible architecture I've only ever seen on a 1930s Hollywood set, but I'll be able to swim with dolphins! My mind is almost totally overwhelmed with the possibilities of just what will happen when I get here. With such a surrounding and the incredible array of aquatic life, it seems only right that I bring my Esther Williams swimsuit for the occasion.
I'm already enjoying this trip and I haven't even left Australia! Just travelling in my imagination to ensure that I am prepared for anything means my house is now covered in clothes. The contest of my wardrobe, my shoe closet and my accessories chest are all working over time creating little travel tableaux.
I can't wait to share this amazing adventure with you!